International Case Studies
Regenerative agriculture is not one single method. Rather, it is a way of understanding the farm as ecosystem in a biological niche. There is no "one-size-fits-all" recipe. In the world of biology, form follows function.
The case studies collected here demonstrate the many ways in which the "biological systems" perspective has generated agricultural enterprises that outperform both the "nature conservation" and "industrial agriculture" paradigms – at the same time.
This case study is an abridged version of the article found on the Ellen MacArthur Foundation website.
Now, his business is thriving. Native produces 75,000 tonnes of organic sugar annually – 34% of the world market and a figure Balbo is planning to increase in line with demand – and 55,000m3 of organic ethanol each year from a crop of approximately 1.2 million tonnes of cane. His sugar is sold on five continents and used in over 100 high profile products. The Balbo Group produces 100% of the energy it needs to process around 6 million tonnes of sugarcane per year in thermoelectric power plants running on sugarcane bagasse (the pulpy residue left after the juice of the sugarcane has been extracted).
Beyond that, thanks to its investment in cutting-edge technology, Balbo has generated enough extra power to supply a city of 476,000 inhabitants. Indicators of sustainability have been defined with leading universities and research centres to assess the health of the soil on the farm, including its fertility and levels of water, air, and biodiversity, and they provide clear evidence that the agricultural activity is regenerative. Some measurements are less precise, but no less important: the farm has a level of biodiversity that's over 50% of that found in Sao Paulo's national parks, proving for Balbo that a thriving ecosystem and crop monoculture can coexist.
For the Balbo Group innovation is a continual process. Aiming to find a solution which can be widely used in agriculture, it has recently launched a project to construct a prototype of a 100% autonomous weed control robot. Balbo explains that: "This can avoid the use of pesticides not just in organic agriculture. The benefit for humankind and the planet could be enormous". To disseminate ERA practices and technologies, a technology-transfer company, Agros Fortis, has been created, enabling farmers to pay to apply ERA practices and technologies to their land. According to Balbo: "I feel it is my duty to disclose this expertise, and I hope it will help apply our findings to other fields, other crops. I hope Native will be seen as an example of what can be achieved for the future, as living proof that anything is possible."
"At Native [the Balbo Group's agricultural brand], our production system now achieves 20% higher productivity than conventional sugarcane production, with genuine concern for environmental, social, and economic factors. It is the first time that an organic, large-scale initiative has produced a higher yield than conventional agriculture!"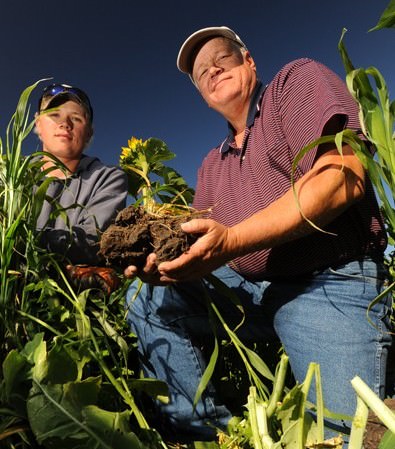 Gabe Brown is a farmer, entrepreneur, author and public speaker. He farms near Bismarck in state of North Dakota, USA, not far from the Canadian border.
All of his work is based on his complete engagement with regenerative farming principles since 1991 when he first bought the farm which he summarises as follows: "I follow five principles that were developed by nature, over eons of time. They are the same any place in the world where the sun shines and plants grow."
The principles are:
1.Limit disturbance of the soil.
2.Keep soil covered with plants at all times.
3.Strive for diversity.
4.Maintain a living root system because it feeds the soil biology.
5.Integrate animals. Nature does not function without animals.
Between 1995 and 1998, Brown experienced a period on his farm which he refers to as the "disaster years". 'Today, I tell people that those four years of crop failure were hell to go through, but they turned out to be the best thing that could have happened to us, because they forces us to think outside the box, to not be afraid of failure, and to work with nature instead of against it'.
More information: